How is the first photo of Corona virus of India and China, see
Rakesh yadav
A picture has been released in India of Corona virus causing havoc in around 200 countries of the world. Indian scientists have succeeded in photographing the corona virus that became the carrier of the Kovid-19 disease. Scientists in Pune took this picture using transmission electron microscope imaging. Scientists have extracted this picture from India's first confirmed corona virus (Kovid-19) case, which was revealed in Kerala on 30 January. This is the first time that Indian scientists have released a picture of this virus. However, China has already released a picture of the corona virus before it.
According to Chinese website CGTN, the first photo of the corona virus was released in China on January 24. The first electron microscope photograph of the corona virus and more information about the corona virus was released in January by the National Resources Bank for Pathogenic Microorganism. The same corona virus caused havoc in Wuhan city of China and about 3300 people died there. In addition to the high-resolution picture of the corona virus, its genetic origin and virus segregation source were also made public. Based on this information, scientists from all over the world were able to do further research.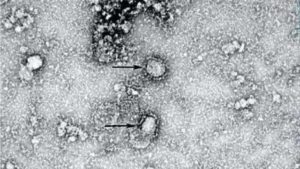 At the same time, scientists in Pune in India took this picture using transmission electron microscope imaging. It has also been published in the Indian Journal of Medical Research. Scientist name of this virus spreading Kovid-19 is SARS-KOV-2, which is being called Corona in the language of speech. The virus was found in India's first corona-infected patient on 30 January. This virus resembles the crown (crown) so it is named corona. Corona in Latin language means crown. Dr. Nirmal Ganguly, former director of the Indian Medical Council of Medical Research, says that this virus first clings to the customer cell (receptor cell) and then gets absorbed into it.
This picture is important to understand the mutation of the virus. This will help in understanding the genetic evolution of the virus. You will also be able to know how it enters animals from humans or at what speed it reaches from humans to humans. The answer to these questions will pave the way for effective drug preparation against it.