What is brochure ?
Brochure is a promotional document Primarily used to introduce a Company organization , products or services and inform prospective customer and member of the public of the benefit..
       Benefits of broucher
broucher are easily to distribute

broucher are cost effective.

broucher are built trust.

Hold lots of information.

personalise your business
Types of Broucher
1.Half Fold
This type of brochure is often compared to booklets Considered one of the simplest brochures to create, half-fold consists of two internal panels and a front and back cover.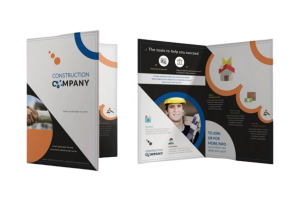 2.Tri Fold
In this case, the name is self-explanatory. Unlike half-fold brochures, tri-fold items are produced by making two bends. The size of the panels must be equal this is right way of tri fold.

3. Z Fold 
The form of this brochure looks like a zig-zag. Put simply, it includes six parts of equal size, created by double bending.

4.Gate Fold
This type of brochure is also known as window fold. Its construction is similar to a tri-fold booklet. However, in this case, three panels don't coincide in size; the left and the right parts combined should be equal to the central piece.

5. Double Gate Fold
To achieve a double gate fold is as simple as ABC. All you need to do is make a central part of it bent as well.

6.Double Parallel Fold
When describing a manual process of this format's creation, we need to highlight two main steps. First of all, you have to fold a piece of paper in half. Secondly, repeat the procedure again, tracking in the same direction.

7.Role Fold
Are you a fan of Japanese cuisine? If yes, then a roll fold won't come as a big surprise to you. This format is achieved through a succession of parallel folding

8.French Fold
If you have to minimize the total size of the project as much as possible, then this type is exactly what you need.

9.Accordion Fold
Have you ever seen this musical instrument? If yes, then you have a vivid understanding of the look of this brochure.

Why should we make a brochure?
A brochure is a concise and visually appealing way to convey important information about a product, service, or organization, helping to engage and inform your target audience effectively. It can serve as a versatile marketing tool, facilitating communication and leaving a lasting impression.
Is the brochure important to the company?
Yes, brochures are important to a company as they can help showcase its offerings, build brand awareness, and influence potential customers' decisions, ultimately contributing to business growth and success. They serve as tangible marketing materials that can be distributed widely or used in face-to-face interactions to leave a memorable impact.
If do you want to get designed a Brochure, Please share below details on
Email : Info@techoriginator.com or what's app on +91 7666 77 5754
What's app for More detail
Provide logo:
Type of Brochure do you want :
Color for Brochure :
Number of pages should be:
Text content: